Name: The Underground
Location: St. Claire, East Elson Commercial Sector and Waterfront
IC Owner: Molly Rearden
Gaining its name from its geography, The Underground is the basement level of one of the many buildings in the commercial sector. It is currently closed, a sign posted that it will reopen soon under new management. No word about a date for the reopening.
The store has shifted to be more of a collector's haven than a real 'music store' in the generally accepted version of the term. No CDs will be found within, only records; LPs and 45's of varying degrees of rarity. The rarest are displayed in locked cases, and have price tags likely to elicit a whistle from non-collectors. There is an especially impressive display of old Beatles records, most still in their plastic, even. But, the store is not limited to just records. There is a short stage where instruments (also rare finds from time to time) are on display. This doubles as a performance space sometimes as well. Other than the stage, another feature is the pair of listening booths and the recording booth. Among the less rare LPs, customers are free to select or or two to listen to in the booths (limit: one person at a time). The recording booth offers the option of taking home a copy of yourself singing your favorite tunes (for a fee, of course) complete with instrumental backing. Also, bands are allowed to use the room to cut amateur albums and order copies. If they can fit in the booth.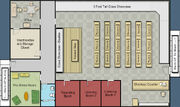 Community content is available under
CC-BY-SA
unless otherwise noted.