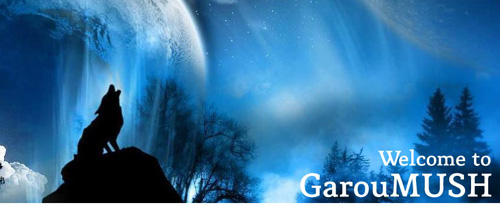 GarouMUSH has been around for over 15 years and has a rich and diverse culture and history. Before you apply for a character, read the New Player Resources, in particular the Player's Primer. Also feel free to explore some of the Game Culture files to get a feel for what it's like here.
As is true of many resources on GarouMUSH, this wiki is player-created and maintained. Please feel free to add your own additions and input. For a list of specfically wiz-approved articles, see Approved. As with the wiki and other resources, the gameplay at GarouMUSH is meant to be largely player-oriented and player-driven, with a generous dollop of help from the wizards. So take this as kind of introductory document, a thorough OOC and IC resource for both current and aspiring players.
The current IP address for GarouMUSH is 75.79.64.116, port 7000; or use Garoumush.org 7000.
( 1,899 articles about GarouMUSH! )
Contributing to the Wiki
If you want to contribute to the Wiki, see these helpful sources:
Character Resources
New Player Resources
Check here if you're a new player.
Setting
Game Culture
Official Files
MUSH Files
Files from the MUSH itself:
Offline Resources