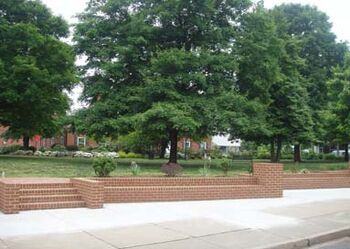 Harbor Park Reclamation Project
Information
Edit
PROPERTY

Current Owner: City of St. Claire
Location: East Bridge Street
Public Use: Public Park
Security: Patrol
PROJECT

Founded: December 12, 2008
Type: Non-Profit
Board of Trustees: Quentin Michaels, Danae Johnson
IC Contact: Quentin or Danae
Harbor Park has fallen to neglect and disrepair. It holds many others attempts for cleaning and securing the grounds. However, due to the area that it falls in and a lack of civic concern it has fallen through the cracks. The scent of the Columbia River is intense while gangs tag the area. It is a known place for teenagers to go to get into trouble with loitering and crime being high through the area. It is not uncommon for there to be gun shots and claims of violent attacks.
The Future
Edit
It is the hope of the Reclamation Project to do just that - Reclaim the Park. They will use their influences and their own abilities to fix the stagnating area of under-development. The idea is to make it a safe place to be and to bring one's family. They will be installing a volunteer public watch to maintain and report any ill reports.
To lead Harbor Park towards the goal of funding the completion of the fencing and other unfinished work around the park, volunteer clean-up groups to remove trash and debris, as well as for permission to set up a legally recognized neighborhood watch organization within the bounds of the park to discourage muggers, prostitutes and the like. Once the watch has gotten enought volunteers and organized, they would also like to apply for permission (once funding permits, which shouldn't be a problem given the people involved) to set up a small one room building on the grounds to store radios for the patrols and to act as a central command area for all the radios to report back to, so the people on shift there can contact the police that much faster and keep things organized and safe. As well as the implementation of a shelter.
Local Limelight -- Information forthcoming.
Dates of Important
Edit
January 17, 2009 - First Press Conference Held
December 12, 2008 - Approved as a Non-Profit
Community content is available under
CC-BY-SA
unless otherwise noted.